We back our work with the Promise that your project will be completed the way you want it for the price we quote you.

The organization is professionally managed. Our top priorities are safety, reliability and adherence to time schedules.

We are driven by customers' need for satisfaction. Our knowledge of the industry gives us the resource to go above and beyond all calls for safety and workmanship.

Our technicians are trained, know the "rules", and have years of experience in this field. Your job will be done the right way the first time!

Our 12 acre site will accommodate any and all loose structural steel and/or heavy equipment.


Home | Specialty Services | Field Operations | Workmanship & Safety
Quote Request | Contact Us | Product Lines | Other Services

---
F I E L D O P E R A T I O N S
---
Cherokee Equipment, Inc. specializes in field operations throughout the Southeastern United States. Located just north of Tallahassee, FL, our central location in the Southeastern United States gives us a logistical advantage. We will be glad to travel to your location and perform an on-site evaluation and quote for your project.

Driving Directions: From Bainbridge, GA travel south on Lake Douglas Road. About 6 miles past the city limits you will come to Woodhull Road. Turn right onto this road and then take an immediate left at the church. About a mile or so down the road you will see a sign and road to the right for Cherokee Equipment, Inc. This road leads onto our 12 acre facility. Follow that road for a hundred yards or so and you will see our office and building complex on the right.
Tanks and Coatings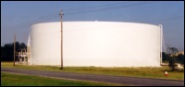 The Chemical Tank shown at the right is a finished tank complete with an exact thickness of paint as required by the client. Precise and accurate measurement of paint thickness helps ensure that our results not only last, but also perform as expected.

The photo at the right shows our workers in the process of applying a coating of paint to a properly prepared surface of a new tank recently constructed.
In the close-up photo below, you can see that our workers are properly protected as they apply the coatings. We value our workers and the success of your project. Proper performance, equipment, and adherence to procedures makes everything go smoothly.
Multi-sectioned storage tank

To the right is a multi-sectioned storage tank with catwalk and access ladder. This work is usually done in the field unless the tank is able to be removed for the sandblasting and painting process. Tanks of this size are often not mobile once set up.

We meet all applicable safety regulations and guidelines as specified by OSHA, MSHA, and the EPA whenever performing this, and any other, type of work. We will integrate our procedures and operations to also ensure compliance with any plant specific regulations or guidelines.


"For GOD did not send his SON into the world to condemn the world,
but to save the world through him." - John 3:17
---

©2000-2002 Cherokee Equipment, Inc.
Mailing Address: 259 Cinnamon Drive Bainbridge, GA 39818
voice - (800) 916-9464 / fax - (229) 246-1930
SALES@CHEROKEEEQUIPMENT.COM

---
Site design and hosting by WEBGRAFFIX.