Is spray foam insulation the right choice for your next project or job?
One of the many services that we offer is application of spray foam insulation. Spray foam insulation can be used on tank exteriors, roofs, and other surfaces where insulation is needed. We also have the ability to topcoat the foam with elastomerics, acrylics, or polyurea coatings. If you are in need of spray foam insulation for any surface that you are considering coating, please feel free to contact us.
Be sure to check our home page frequently under the Current/Recent projects section for possible examples of spray foam insulation jobs. Our staff will be glad to answer any questions you may have on this procedure and product.
Is spray foam insulation the right choice for you? Do you have surfaces that are hard to coat or cover, but need protection from the elements? Have you tried other methods, but not been satisfied at the results of your efforts? If your answers are "yes", then this could be the answer that you've been looking for.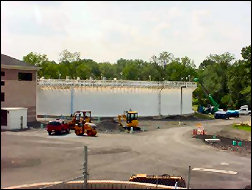 Spray foam insulation is priced reasonably and our experience staff and workers will make the entire application and installation process one that is smooth and efficient. Forget about installing fiberglass type insulation that will sag and deteriorate as moisture takes its toll on the material. Spray foam insulation is not subject to the normal types of degradation of many other types of coatings or insulation due to weather and human interaction. Once applied properly, it should provide the intended insulation for years to come under normal circumstances. This type of application is ideal for applying to the insides of walls made of tin or corrugated metal as shown above. It's easy to apply and requires no special hangers or restraints to keep it in place. It adheres to the surface at the time of application and provides superior insulation for years to come.