We back our work with the Promise that your project will be completed the way you want it for the price we quote you.

The organization is professionally managed. Our top priorities are safety, reliability and adherence to time schedules.

We are driven by customers' need for satisfaction. Our knowledge of the industry gives us the resource to go above and beyond all calls for safety and workmanship.

Our technicians are trained, know the "rules", and have years of experience in this field. Your job will be done the right way the first time!

Our 12 acre site will accommodate any and all loose structural steel and/or heavy equipment.


Home | Specialty Services | Field Operations | Workmanship & Safety
Quote Request | Contact Us | Product Lines | Other Services

---
---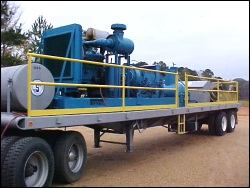 Cherokee Equipment also offers Water Jetting, also known as Hydroblasting. We can provide "water jetting/cleaning" at pressures up to 20,000 psi. This is the newest type of surface preparation in the industry and now has SSPC/NACE standards to support this type of cleaning, which we adhere to.
Advantages to Water Jetting can be seen in plants where surface preparation is needed, but blast media from conventional blasting is prohibited because of various reasons (finish product contamination, etc.).
"For GOD did not send his SON into the world to condemn the world,
but to save the world through him." - John 3:17
---

©2000-2002 Cherokee Equipment, Inc.
Mailing Address: 259 Cinnamon Drive Bainbridge, GA 39818
voice - (800) 916-9464 / fax - (229) 246-1930
SALES@CHEROKEEEQUIPMENT.COM

---
Site design and hosting by WEBGRAFFIX.